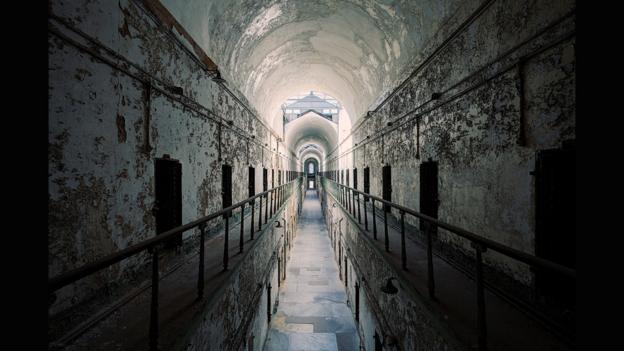 East State Penitentiary, Pennsylvania

Photographers Daniel Barter and Daniel Marbaix's pictures of deserted buildings in the north-eastern states of the US show once-grand edifices slipping into terminal decline. The pair's eerie portraits of emptiness have been collected in a book, States of Decay, published by Carpetbombing Culture in the UK this month.

Theatre, Connecticut

The structures pictured include abandoned power plants, hospitals, asylums, schools, theatres, steel mills, prisons, factories and hotels. " I had a conversation with Gary our publisher at Carpet Bombing Culture," says Barter. "We threw round ideas of locations and came to the conclusion that NY and surrounding states was the most viable."

Waterworks, New Jersey

When I was five my junior school had a derelict aeroplane in an adjoining field," says Barter. "It was part of the cadets I think. Two of my friends and I climbed over the 10-foot green wire mesh fence and entered the plane. The combination of leather and shiny metal switches was a formative experience for me. If I close my eyes I can almost smell it. From there on I never looked back."

Sanatorium, New York

The photographers toured around the states in the north-eastern US, visiting areas such as Seaview Tuberculosis Sanatorium on Staten Island, The Steubenville Steel works in Ohio, plus the Rockland Psychiatric Hospital.

Masonic Lodge, New York

Barter and Marbaix are not the only people visiting such deserted structures; there are many groups of urban explorers – who call the activity Urbex – visiting such decaying sites. "The internet is a great resource," says Barter. "Besides that, we find sites from people in the community or by good old fashioned driving around." Not all who take interest in such buildings are so welcoming, however. "Metal thieves are not to be messed with," says Marbaix.

Grain silo, Buffalo, New York

While the pair try to keep their gear down to a minimum, there is still a reasonable amount to carry. "Maybe not as little as possible, you need a tripod and a lens or three but definitely not carrying a ton of kit," says Marbaix.

Cathedral, Pittsburgh, Pennsylvania

"South Philly was pretty terrifying," says Barter. "We stuck out like a sore thumb whilst exploring there. And of course certain buildings are pretty unstable. You add to that the climbing, carrying gear, being at height and you can have quite the adrenalin rush."

Masonic chapel, New York

The pair have returned to several of the more photogenic sites more than once. "West Park Asylum in the UK – I visited it 30-40 times over a couple of years. It is the place that really got me into Urbex," says Marbaix.

Asylum bowling alley, New York

The pair have also shot outside of the US. "Chernobyl and more specifically Pripyat," says Barter, "was one of the most profoundly harrowing experiences of my life. Subterranean London is pretty magical as well."

Workers' boots, coalbreaker, Pennsylvania

The pair hope to continue photographing picturesque dereliction elsewhere in the US. "I would love to visit Gary, Indiana, it has the that forsaken feel like Detroit," says Barter. "Unfortunately, it is all about the funding. So if anyone has any offers?
Please follow and like us:
Leave a comment