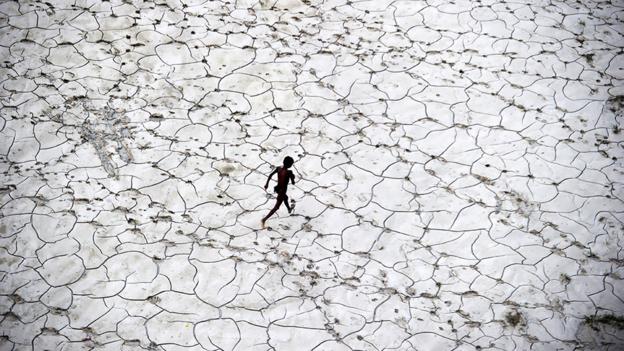 Dry me a river

A young boy runs through a dried riverbed after flood waters receded in the Indian city of Allahabad. Heavy August rain caused the worst floods in 30 years.
Fire in the sky
US heatweaves created perfect conditions for massive forest fire in the summer; this massive pall of smoke was captured at West Fork Complex, Colorado.
Blue lagoon
Melting ice creates a pool of water on the Glacial Ice Sheet in Greenland. Warmer temperatures caused increased icemelt in this frozen Nordic island.
Port in a storm
The lighthouse at Seaham Harbour, County Durham, is hit by huge waves as a winter storm battered the UK.
Twister triptych
These images of a huge tornado were taken from a video as it touched down in Washington, Illinois. A n epic storm led to a series of tornadoes in the US.

Dirty old town

Smog reached record levels in China this year – pollution from cars and industry creating a hazardous cloud so toxic schools were closed.
Cloud city
Skyscrapers in London's financial district loom above morning fog in December, taken from a police helicopter.
Bolt from the black
The night sky in Jakarta, Indonesia, is lit up by a flash of lightning, during a storm in June which caused heavy monsoon rains.
Water torture
Chinese soldiers run from crashing waves on a seawall in Wenling, in east China's Zhejiang province, as Typhoon Fitow hit land in October.
Colour me bad
Soaring temperatures led Australian scientists to devise a new colour code for hottest readings; those over 52C are shown in purple, as above.
Please follow and like us:
Leave a comment